Hi! Amy here! Thanks so much for stopping by my site.
I'm so pleased to see you all here. Living a clean, healthy, and eco-friendly lifestyle means a lot to our family, and because you are here, I guess it means a lot to YOU too.
Maybe you're the only one in the family who sees the benefits in that, and maybe they think you are a crazy hippy-dippy health nut.
Been there… just ignore those silly comments and before you know, the whole family will be talking about living a healthy and eco-friendly lifestyle. Believe me!!!
Make sure you don't miss a thing and become part of the EatLove.Live community by signing up for the weekly newsletter and enjoy my first FREE GIFT: 'The Green Smoothie Lifestyle' … a complete guide full of tips, tricks, and recipes to make the perfect tasting green smoothie. 
Or come and say hello on social media or drop me an email at [email protected]
My name is Amy Goodrich and I'm a huge food, life, and animal lover. I studied pharmacy and biology and worked as a plant biologist at the University of Belgium for several years. Struggles with my own health, my dad having a heart attack (which he luckily survived), and my hubby being diagnosed with multiple sclerosis (MS), made me fully aware of the fact things needed to change. And medicines weren't the answer!
That was when I decided to go back to school and I took up a 4-year after-work, over-weekend nutrition/health coach course at The European Academy For Natural Health Care (EANG, Ghent Belgium) to become the nutritionist and holistic health coach I am today.
As the first guinea pigs, my hubby and I changed our lifestyles one bite/step at a time… and what an incredible, crazy journey that has been for us! Hence why I created this website, to share our experiences, tips, tricks, and recipes to live a healthy, happy life.
Meet the family……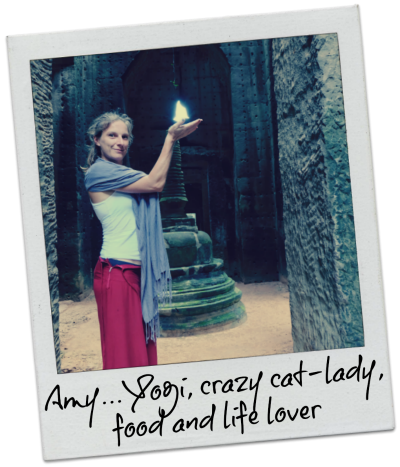 In the past, my hubby was one of the biggest carnivores on Earth (maybe a bit over-exaggerated
) but compared to myself he was. When I started the holistic health coach course, he was always laughing with my "hippy-dippy-like" mission to become healthy and step away from eating that much sugar, meat, and processed foods.
Determined to nourish our bodies back to health, I changed our diet to a more alkaline, mainly plant-based lifestyle.
Meatless Monday's (or in Belgium, it was actually Veggie Thursday), fruits for breakfast (which became fruit and veggie smoothies later), cooking with coconut oil and going to yoga classes…. That's how our journey to become healthy started several years ago… one bite/step at a time.
Fast forward to today…
For many years we thrived on a flexitarian diet where organic meat, fish, and dairy were occasionally on the menu. In 2017, however, we decided to skip animal products altogether and are now (with a few cheat moments) happily and healthily living the plant-based or vegan lifestyle 99 percent of our time.
My hubby hasn't had an MS flare-up since we gradually changed our diet and is even off his weekly interferon injections since 2014 without any issues!  I improved my cholesterol, weight and heart rhythm disorder without the need for medication.
Going through these amazing changes ourselves made us realize how powerful food and mental well-being are for overall health and happiness. When I changed my family's health for the better, it felt, and still feels, so good that I wanted to help other families achieve the same result. Because we all deserve to be healthy and happy, right?
I love food, and with the EatLove.Live website I want to show the world that eating healthy and being healthy not necessarily means eating tasteless or expensive food, spending whole evenings in the kitchen, or working your ass off in the gym.
That was the healthy part… now the happiness part
A few years ago I quit my job as a plant biologist to focus on guiding people on their journey to improve health and happiness and follow my own passion in life. It all started with guiding friends, family, and people in one-on-one coaching sessions at home. These days, however, I'm happy to be able to reach so much more people through this blog, social media, my online "ThinForever" course, online coaching sessions on request, and the 10-Day detox course.
And I must say… you are all putting a big smile on my face. Helping people and hearing all your success stories and lovely feedback truly warms my heart. It is what gives me the strength and motivation to keep doing what I'm doing… helping people just like you find health and happiness for themselves and their families.
So much more rewarding than studying the cell cycle of plants which was also kinda cool, in a nerdy, sciency way… but helping people gives me so much more energy, love, and happiness. All the important factors of life! 
Apart from being a food lover, I'm also a crazy cat lady who loves to practice yoga on a daily-ish basis, whenever I can I don't mind a dive into the deep blue to amaze myself of the underwater world, and I love to discover new places, cultures, and people.
Ever since my hubby and I got together in 2001, we have wondered how it is to live in the world rather than in just one country. That's why we moved to SE-Asia in 2014. Although we miss family and friends very much, we absolutely love the tropical atmosphere, Khmer people (which are the most friendly people in the world), and the warm, sometimes very wet, climate. So I think we might stay here for a little bit longer before moving onto our next adventure.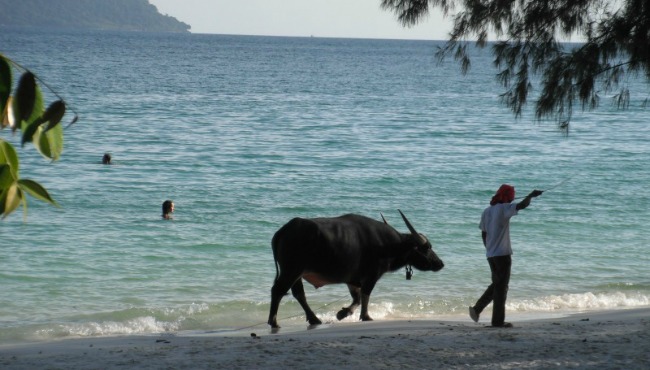 As you can see the past 10 years or so have been a life-changing journey and, to be honest, chasing our dreams, health and happiness were the best choices we ever made in our life. If you gradually change your life, it isn't that hard. You'll see
If I could make the change for my family and myself,  you CAN do the same. And I'm here to help you on your amazing journey! 
Thanks again for stopping by and I look forward to hearing your stories, tips, and recipes to get to know you better. Feel free to share a few words about yourself in the ELL Facebook group. 
P.S. Don't forget to download my welcome gift… "The Green Smoothie Lifestyle", an eBook that will teach you how to make the perfect green smoothie, even if you don't fancy a "green" taste.
P.S.S. If you have questions, please don't hesitate to contact me through this email address, [email protected], the EatLove.Live Facebook Group, or via other social media platforms. Here to help